What does telehealth mean?
We remember the time when the pandemic forced offline businesses to consider telehealth implementation. A number of questions like "how to implement a telehealth program?" or "what resources are required to initiate and implement telehealth?" that young businesses stumbled over have appeared.
Large companies have been implementing telehealth for a long time, so now you can find telemedicine solutions in almost any field, from birth control to genetics.
That's why you should ask yourself the question first:
Do you have a niche for the implementation of telehealth that is not yet occupied by anyone?
If so, think about the following two things:
Do you have enough experts for the telemedicine platform, and will there be waiting lists where patients wait for an appointment for more than a week?

Have you estimated the cost of implementing telehealth?
While the first issue is solved by mutual PR (the doctor gets additional visits thanks to your platform), the cost of telehealth implementation may include some implicit costs.
For example, building a platform yourself can be slower and more expensive, although initially, it seems the opposite.
Why? You have to hire developers and UX designers from scratch, look for each team member on your own and be responsible for the wrong choice of the employees as we cannot know in advance whether the employee is good enough in this particular case.
You are essentially wasting your time creating a single organism from scratch. At the same time, you should not rush to hire ready-made teams that do not focus on the Telehealth profile, as they may lack knowledge of some specialized laws, the necessary architecture, and ready-made templates that are typical for the industry. And these also potentially slow down the development process and make the cost to implement telehealth more expensive.
The Telehealth industry itself is divided into 5 areas:
1. Telemedicine providers and platforms
Telemedicine best practices in this segment offer online access and facilitate interaction with remote healthcare professionals.
These interactions—whether between patient and physician or between physicians—are usually advisory.
2. Telepharmacy
Companies in this segment are using technology to connect patients with pharmacists and provide pharmacy services at a distance.
Typical services include prescription fulfillment, patient counseling, medication matching, and medication management.
3. Remote Monitoring & Diagnostics
These companies offer products and services to assess the health and well-being of patients at a distance.
For example, to track signs of impairment, identify disease risk, or diagnose conditions, these solutions differ in the types of data they analyze and how they are collected and disseminated.
4. Telehealth SaaS
These companies provide software and connectivity solutions to organizations that want to implement telemedicine services.
5. Teletherapy & Chronic Care Management
These companies offer products and services that allow you to interact online:
patient-therapist;

patient health coach;

application – AI or just app.
They guide and encourage patients through treatment plans or preventive healthcare programs.
Such applications are usually divided into:
Mental Health: various areas, including those related to diseases (for example, support for cancer patients).

Control and treatment of chronic diseases.

Control and treatment of things related to sleep or meditation.

Exercise, improvement of joints/other organs, or reducing pain.
Therefore, when using best practices for implementing a telehealth program, be sure to consider the niche and scope.
How to implement telehealth?
Before describing the stages associated with the processes, it is worth describing the telehealth implementation checklist for the phase BEFORE starting work on the project.
Define the goals: specify the reason and the desired result of digitalization.

Set telehealth implementation timeline.

Collect a list of potential partners and suppliers.

Choose the right team that is well familiarized with the industry.

Study the legal framework of the industry.

Create a process for getting feedback and try to modernize the development processes at each sprint.
The telehealth implementation strategy should include the following steps:
1. Discovery phase, when finding out the requirements, determining which features need to be done and which are not:
1.1 Learning & Criticism: the study of business and discussion (with possible contestation of decisions) of functionality and development.
1.2 User Research & Validation: generation of customer-related hypotheses.
1.3 Digital Product Design: discussion of product design.
2. Design stage, which consists of three phases:
2.1 Wireframing: UX applications are already being laid here, all flow for users is being worked out.
2.2 Prototyping: preparation of a design prototype.
2.3 User Interface Design: something beautiful and pleasing to the eye is already being made from raw screens here. After the UI of the first features is rendered, development begins, and then the design and dev team work in parallel.
3. Development:
3.1 Regulatory Affairs: product compliance with industry standards and laws.
3.2 Software Development: the development.
3.3 Quality Assurance: error check to avoid risks.
4. Demo & Launch: demonstration of the result:
4.1 Product Release: release of the developed platform to the market.
4.2 User Acquisition: choosing the right channels to promote the platform.
4.3 Maintenance: permanent technical support of the product.
So, the telehealth implementation guide can be used at work.
What resources are required to initiate and implement telehealth?
Resources should cover solutions that quickly resolve common obstacles. We conducted a survey among offline businesses and clinics that had previously digitized and identified the main obstacles: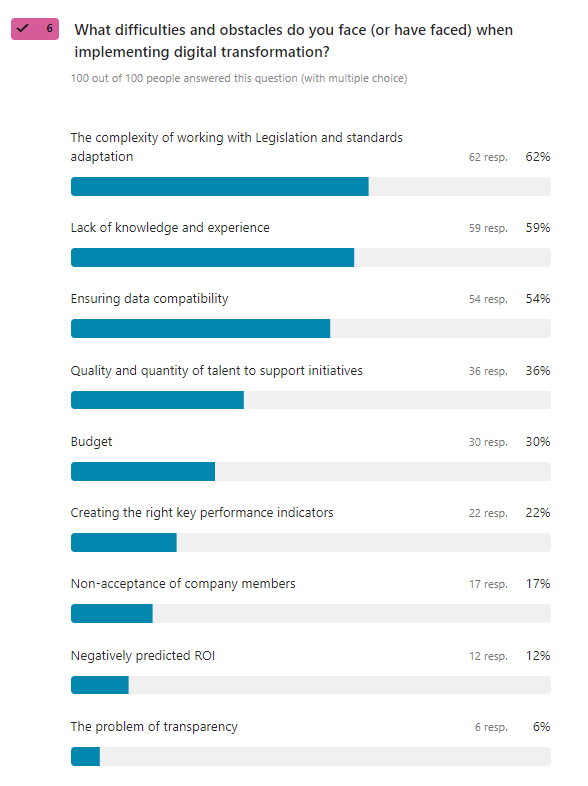 Let's consider each in more detail.
1. The complexity of working with Legislation and standards adaptation
The problem here is in studying the legislation and identifying points that need to be adapted when initiating the telehealth implementation plan. For example, there are provisions in the Law that require the automatic or manual deletion of chat data every few months.
Let's see what HIPPA says: the act says that many of the communication channels used by the majority of the population are not at all secure. Skype is unlikely to be a suitable system for telemedicine. Or if you work with third-party sites, then you should familiarize yourself with these rules.
2. Lack of knowledge and experience
Here the main problem is not knowing where to start and how to check if different candidates for specialist positions understand the topic.
Moreover, another option – outsourcing teams may not take into account all the factors of the industry due to the breadth of the profile and produce a final result that does not meet expectations.
How to implement telehealth in such a case? You can just take the path in the middle and have the third-party team become yours. In other words, you can work as a team and iterate frequently in each phase of development. And of course, the team that joined you should be highly specialized in Telehealth topics.
Such an approach is called Health Product Development, which is a fairly new way of interacting. You can read more about it and find such companies in our e-book – How to Choose The Right Partner for a Health Product Development.
3. Ensuring Data Compatibility
The third most popular item essentially reflects a solution similar to the second point. Failures and the resulting risks of customer churn make us pay close attention to the QA stage in the process of developing a digital platform.
Therefore, the main resources will be knowledge of the laws and UX standards of the industry, the right team, and processes.
What platforms can be used for doctor-to-patient communication?
Zoom:

There is a special offshoot of this product called "Zoom for Healthcare" that was made under HIPAA compliance.

EHR provider:

a custom-made third-party solution that adds a patient's medical record in the electronic form of digital communication, which reflects the medical history.

Internal/proprietary system:

if you are only interested in in-house development.

Doxy.me:

One of the most popular solutions as it is HIPAA and GDPR-compliant and has many telemedicine-specific features. For example, a waiting room where a doctor can leave reading materials for a patient while they wait for an appointment.

WebEx:

Similar to Zoom, it has an offshoot for Healthcare.

Teladoc:

The most popular telemedicine company whose main product is telehealth services and analytics.
How much does it cost to implement telehealth?
The cost of developing a telemedicine application depends on the following factors:
Quality and quantity of features;

Type of development: in-house team or partner company;

In the case of in-house development: the technical level and experience of the team and understanding of the Healthcare industry.

Development time.
The cost of implementation itself depends on many factors and can range from $10,000 to $100,000.
At the same time, there are hidden costs, such as various integrations: medical devices and APIs, etc. For example, medical equipment can cost from $3,000 to $9,000. Or the financial cost of implementing telehealth in rural health clinics, for which the equipment may differ and affect the final unit economy.
There are also costs ranging from $1,500 to $10,000 for telemedicine platform licenses unless you develop your own solution on your own or with a partner.
In addition, additional platforms (for example, the mobile version) will also require costs of up to $10,000. And if the team does not have experience in the industry, then training costs will be required as well.
Telehealth best practices
Telehealth best practices
Best practices in telehealth include good healthy habits or self-examinations that can be taken as a basis.
Collecting feedback from the team: create processes where every member of the team is not afraid to voice their ideas or argue with your proposals.

Gathering feedback from patients and doctors: similar to the previous point, but with more focus on the correct system. This is when feedback needs to be properly documented and critics should be rewarded.

Identification of risk factors: try to manage risk every time, as reducing risks in the operation of the platform and devices and cybersecurity issues are one of the most popular reasons for implementing digitalization.

KPI Monitoring: create the metrics that resonate with your goals.

Providing learning: create an environment where your platform will improve in line with the development of the market and your employees.
Conclusions
Thus, we found out:
What is Telehealth and its market.

What does the Telehealth implementation process consist of.

The obstacles businesses face when implementing digitalization and resources that can overcome them;

The popular platforms for Doctor-To-Patient communication;

The cost and the price ranges to implement telehealth;

Best practices for implementing telehealth.